NSW Boat and PWC Licence | Sydney Boat Licence Courses

The National Maritime College (NMC) specialises in Boat and PWC Licence one day courses. Our courses provide applicants with the best overall boating education experience as well as meeting all NSW RMS requirements for obtaining the licence in the one day. Boat licence courses cater for both experienced and beginners and can be completed by any one 16 years or older. There is also a restricted boat licence available for young people between 12 and 15 years old. It is fun relaxing training delivered by experienced maritime trainers. Bring along family or friends and you will get a group booking discount. Booking on a course is an easy process using our mobile-friendly website and booking system. If you are balancing home and work life commitments you may prefer completing the boat licence or boat and PWC licence theory only session and then complete the boat practical on a different date. Call 1300 723 112 and we will process the booking for you.

How to obtain your Boat or PWC Licence

There are two main learning components required before you can apply for the licence:

Theory knowledge and test.

Evidence of practical boating.

Choose from four trainer-led course options. To get the most effective training and best overall learning experience we recommend completing either Option 1 or Option 2. This way you can meet all the requirements in the one training session. Then, it is simply a matter of taking the documentation we give you to a Roads and Maritime Service Centre to obtain your licence. Boat and PWC Licence private courses are also available for groups of eight or more people. Price on application. Conditions apply.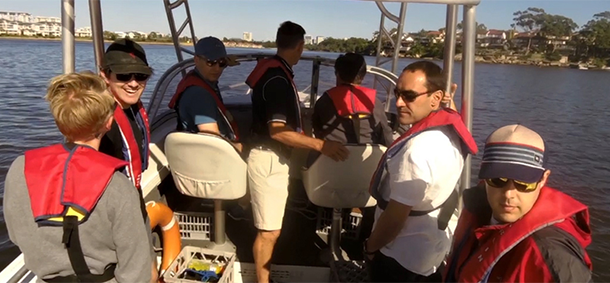 Boat licence practical. Taking around two hours this trainer-led session is an ideal option for anyone who has already completed the theory learning component. The practical session has been designed by a current senior Master. You will benefit by learning correct boat boating and seamanship skills.
Online Booking Process

---
Select your preferred course option from the right-hand navigation links

From the "Enrolment Tab" click the yellow "Enrol Button" next to your preferred date and location. Complete the booking, submit and proceed to payment.
On completion of the booking/enrolment process you'll receive a detailed confirmation email explaining everything you need to know and bring on the day.
The day before your scheduled course date we'll send you a text reminder to your designated mobile phone number.
×