Send us your feedback

Feedback helps us improve the services we offer. We would like to hear from you, whether it's to comment on positive experiences, to highlight areas for improvement, or to raise specific concerns you would like addressed.These concerns might be about our services or your training. They could relate to treatment you have received or, the behaviour of others which you consider unacceptable or inappropriate.

As part of our overall approach to gathering feedback you may also be asked to complete a survey at the completion of a course, an assessment, a single unit or module, a group of units, or a complete qualification. Where opportunities for improvement are identified as a result of the feedback we receive, actions are developed and put in place to help improve our services to you. If at any time you are not sure of the best way to provide feedback or raise a concern your trainer or, one of our support staff can assist you in exploring your options and if required to assist you through the feedback process.

The quickest way to provide feedback is by using the online Feedback Form.

Feedback Form
Do not use this form if your complaint relates to any behaviour, or perceived behaviour by a student or staff member which you consider to be upsetting. Use the Grievance Form.
×
Complaints
How to raise a concern or complaint?
Refer to our
Complaints Policy
.
In the first instance raise your concern with the party involved. This needs to happen within 10 working days of the issue arising. If you do not feel comfortable with this you may discuss your issue with the College Managing Director. If your concern is about an assessment decision you should follow the procedure to request a reassessment appraisal. This process is outlined in the student handbook and course information. If you remain unsatisfied with the outcome you may lodge a complaint with the
Australian Skills Quality Authority
, (ASQA) the State Fair Trading Office or with the relevant State Maritime Authority.
Complaints Process Guide

Source: NMC Complaints Policy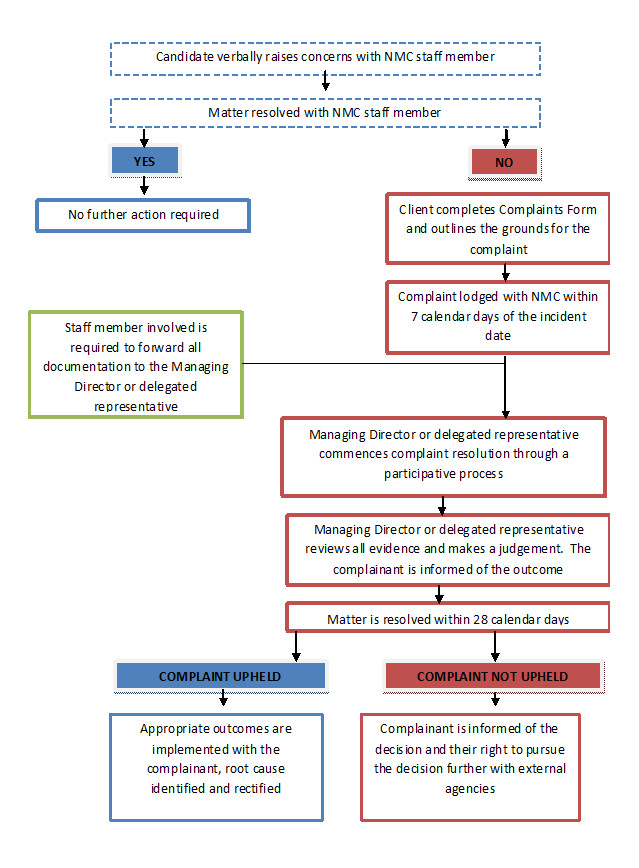 ×
The College acknowledges that every student/client has the right to lodge a complaint when they are dissatisfied with the training and /or assessment services and experiences that they have been provided. The College will ensure all students and clients have access to a fair and equitable process for expressing complaints, and will manage the complaint with fairness and equity.
To lodge a formal complaint use the:
Complaint Lodgement Form

Grievance appeals

If you think you have been treated unfairly or subjected to inappropriate or unacceptable behaviour by another student/s, trainer, or staff member/s, you may wish to lodge a grievance.Unacceptable behaviour can include verbal or physical abuse, bullying or harassment, victimisation or discrimination. If you think you want to lodge a grievance, you may wish to discuss your concerns with the College first on 1300 723 112.

To lodge a formal grievance appeal please use the:
Grievance Form

---
Assessment appeals

If your feedback specifically relates to an assessment process or outcome that you are unhappy with, then the appeal process is used. In the first instance raise your assessment concerns your trainer/s. If your concern is not resolved satisfactorily you can discuss the matter further the College Training Director.

To lodge a formal assessment appeal please use the:
Assessment Appeal Form

If your complaint, grievance or assessment appeal is not resolved to your satisfaction, we have processes that enable you to have the decision or outcome reviewed. If you are not sure about the best way to raise a concern, or would like to initially discuss it informally with someone, you can contact us on 1300 723 112 and ask to speak with the Training Director. Anything you discuss will remain confidential.