Training Onboard Your Boat
Before obtaining your car licence you had to learn practical skills. It is important to do the same before taking the helm. With knowledge and experience comes increased safety and boating enjoyment. We can guide and mentor you through your training so that you get the most out of your boating and whilst gaining a greater appreciation of your Skipper's role.

This personalised training is a great way to build your confidence, of getting to know your own boat better, driving it better and understand the systems and navigation equipment on board. It is also a great way to assist a non-boating or partner gain confidence so that you can work together in handling the vessel and involve family or friends who also wish to be part of the training experience. With a commercially qualified trainer assigned to you we tailor the training schedule around you.

The only pre-requisites are that your powerboat, motor cruiser or yacht is seaworthy, fully insured and meets the state safety and registration requirements. And, anyone participating in the training must hold a current boat licence.

Here are some ways we can help

New boat or upgrading to a bigger one

A qualified Master Trainer can spend time helping you to become familiar with all aspects of your new vessels from the general layout,safety equipment to carry, day pre-departure checks to make and lessons on how to handle your new vessel competently.

Voyage planning and provisioning

As you seek to venture further afield it is important that you are planning your trips to factor in what you need to prepare to ensure you have a safe and enjoyable time aboard. Knowing how to plot your course, calculate times, fuel consumption and provisioning requirements are crucial. We can help you create a voyage plan or review one you already have.


Onboard electronics
There are so many manufacturers and models of chartplotters, GPS units, radars and radios that just spending some time dedicated to understanding how they work is time well spent. We can spend with you explaining how to use these navigation aids out on the water where you can learn aids how to add waypoints and routes to a chartplotter.


Night boating

Anyone who has boated at night is amazed how different things are after the light disappears.It can be very disorientating so knowing how to navigate at night is essential for a safe and enjoyable night time experience We can accompany you out for a drive around at night or spend longer planning and executing night passages and entries to harbours.

Close quarter handling

For many the challenges that handling a vessel in close proximity to other vessels presents creates some stress and frustration which can spoil an otherwise great day out. Spending time just focusing on handling your vessel and berthing it is time well spent, no matter how long you have been boating.


Local knowledge
Learn more about your local boating areas. You may be new to an area or want to explore a new place. We can make this less stressful and more fun as you will have someone else along who knows where it is safe to go and areas to avoid. Our Trainers often know of hidden away bays and anchorages. They may even show you where they are!


Assisted trips

We often join a delivery of a new vessel or one that is moving to another marina and port to help the owner (or boat dealer) with the transfer. As boat trainers we want you to helm (versus being solely delivery skippers) so we like to mix in training with the voyage being undertaken.


Routing services

If you are planning a long trip - to the Pacific Islands, New Zealand or, round the world having designated qualified people ashore to monitor your voyage and activate search and rescue support if needed is like having bonus insurance. Talk to us about the services we provide. We were solo sailor, Lisa Blair Blair's Designated People Ashore when she completed her Antarctica solo circumnavigation.

Ready to head out?

If you want improve you boat handling skills, you're in the right place. From families taking their first trip, to adults seeking to voyage further and learn more skills, we can help. Ease yourself, family or friends into boating, let them learn boat handling skills at their own pace with a qualified Skipper standing by.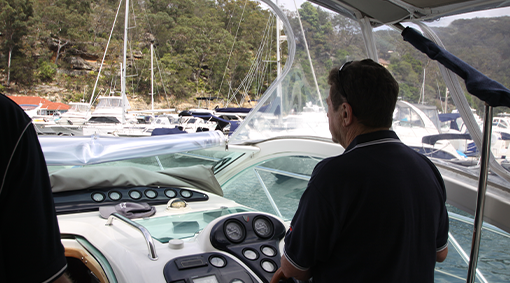 The Skipper's Duty of Care is a fundamental principal of maritime law and seamanship, which is legislated within State Maritime Acts, National and International Regulations. Regardless of whether you are Master of a big ship or Skipper of a small " tinnie", the vessel owner and Skipper are deemed responsible for every person onboard the vessel, must not endanger other vessels and must be prepared to render assistance to anyone in need of help.
---
The Skipper's duty of care includes:
Monitoring the safety and integrity of your vessel and to ensure the vessel is suitable for making the planned trip.
Maintaining a regular maintenance schedule for engines and electrics.
Monitoring weather, tides and local conditions. If in doubt about the conditions delay trip.
Leaving a voyage plan with the local Marine Rescue Unit or a responsible person. Inform them of your voyage plan to and the estimated time of return.
Maintaining and carrying the correct safety equipment for the vessel as well as all the necessary supplies - fuel, food, clothing and water.
Obtaining current charts for your voyage. Identify navigation hazards such as rock shoals, wrecks, reefs and shallows.

Briefing crew and passengers on the location of all the safety equipment, especially the location of life jackets and how to don them.
Outlining any associated risks which may arise including what is expected of them in the event of an emergency.
Monitoring the vessels stability and to not exceed the passenger carrying limits of the vessel.
Maintaining a state of personal fitness and ability to safely Skipper the vessel in all conditions.
Considering the needs of passengers and crew regarding food allergies, medical conditions or if anyone is prone to sea sickness?
Whilst underway maintaining a proper lookout at all times and to take action to avoid a collision if it is necessary.
Skipper's must be aware of what is happening around them at all times on the water, even when at anchor.